'The Art I've Lived With': Mikhail Baryshnikov shows off his collection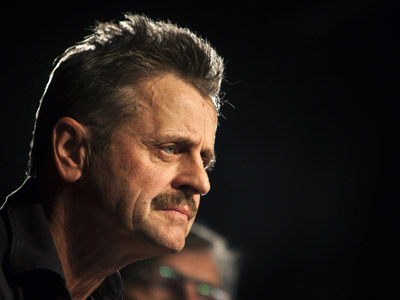 Russian-born ballet legend Mikhail Baryshnikov has also had life long passion for art. Opening this week in New York "The Art I've Lived With" is an exhibition of his collection and it is tipped to travel to Moscow.
­A hundred works from Baryshnikov's four decades of collecting have never been shown to the public before. The dancer first started collecting works relating to ballet, but later expanded his interests.

"I never spent hundreds of thousands dollars on the pieces, because I never had that kind of money," Baryshnikov told Bloomberg during an interview at the ABA Gallery which is hosting his exhibition. "A good Bakst or Cocteau would be a couple of thousands of dollars. But something like a little working sketch of Benois you could buy for a couple of hundred dollars. Now it's 20 times more," he explained.

Mikhail Baryshnikov (R) and ballerina Aszune Barton from Canada perform during a rehearsal of his company's, Baryshnikov Dance Center (Reuters/Sergio Perez)
­Baryshnikov has been collecting art ever since defecting from the Soviet Union in 1974, when the 26-year-old dancer requested political asylum in Toronto while on a tour with the Bolshoi Theater. He joined the National Ballet of Canada before moving to America to become principal dancer with the American Ballet Theatre and later its artistic director. In 1990, Baryshnikov co-founded the White Oak Dance Project and became artistic director there. In 2005, he opened the Baryshnikov Arts Center in New York.
Mikhail Baryshnikov takes part in the rehearsal for "An evening of Dance" IAFP Photo/Pierre-Philippe Marcou)
­"I never called myself a collector…I was just assembling pieces that caught my eye,"  64-year-old Baryshnikov noted.

Apart from ballet, cinema has caught the artist's eye a number of times. The role in the 1977 drama "The Turning Point" earned the versatile artist an Oscar nomination. In 2003 he appeared in the last season of Sex and the City TV series playing Carrie Bradshaw's Russian lover. In one of the episodes Baryshnikov took her to his "Russian Samovar" restaurant that the dancer once opened with the Nobel laureate Joseph Brodsky.

Sex and the City (Still from YouTube video/missvee812000)
­Earlier this year he received the $100,000 Vilcek Prize as a lifetime achievement award for his contribution to American culture.

But, according to Baryshnikov, having his art collection on show is "the most private thing I've done in my life in the United States."

"It's even more revealing than to go on stage. I am a performer. I go on stage and make a fool of myself. Pictures can tell a story," Baryshnikov wrapped up.

It's hoped that next year his collection will travel to the Russian capital to tell his personal story at the Pushkin Museum of Fine Arts.