Best of Russian ballet captured by French lens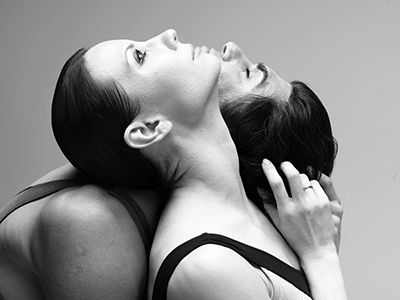 Leading Russian ballet dancers of the Bolshoi Theatre were caught in the lens of Vincent Perez's camera as a part of his large-scale international "Paris-Moscow" photo-project.
Such ballet dancers as Nicolai Tsiskaridze, Ekaterina Shipulina, Svetlana Zakharova and others are shown in Perez's photos exhibited in Moscow.

The project, which initially started at the Paris Grand Opera with famous ballet stars as Nicolas Le Riche and prima ballerina Elisabeth Platel, pictures Russian dancers in a new light.  Perez says that while working on  the "Ballet" project he tried to focus on three themes. The first is the reflection of masculinity and femininity. In some pictures Russian ballet stars are shown in eye-catching and bizarre images, for example, Nicolai Tsiskaridze wearing a tou-tou or skirt.
"The idea of Masculine-Feminine came along, For me the dancers at that level are heroes. They are like warriors. They work so hard with their bodies," Perez said to The Moscow News.
The second theme is an attempt to portray the ideal leap. According to Vincent Perez himself, the ballet dancers to him are perfect creatures, who connect ordinary people to the world of the divine. That is why he wants to understand, with the help of a camera, how it happens.
And the third theme reveals the life behind "The Swan Lake". It shows the ballet in its entirety- from the preparations behind the curtains to the performance on stage.
Most of the fifty-works in the "Ballet" series are presented in black-and-white, with only a few photographs in color.
Vincent Perez plans to show this exhibition not only in Moscow, which he called "one of the capitals of the photographic world", but also in other Russian cities.
Vincent Perez is a prominent French actor, film director and script writer, as well as a gifted and creative photographer and a long-standing admirer of the Bolshoi Theatre. The worldwide fame came to him after he starred in a film by Michelangelo Antonioni "Beyond the Clouds". After that he took part in such well-acknowledged mystical thriller as "The Crow: City of Angels" and "Fanfan la tulip". But there are only few who knew that one of Perez's first passions besides acting was the camera. So, aged fifteen, he started to study photography at the Center Doret in Switzerland. Recently Perez turned professional and started to work for French magazines such as Premiere and Milk.
(Photo courtesy of the RuArts Gallery)
(Photo courtesy of the RuArts Gallery)
(Photo courtesy of the RuArts Gallery)
(Photo courtesy of the RuArts Gallery)
(Photo courtesy of the RuArts Gallery)