­Baghdad hosts first fashion show since US invasion (PHOTOS)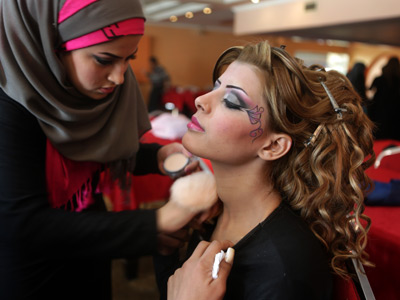 As wartime seems to have passed for Baghdad, the local fashion and beauty industry has begun to recover. The city has hosted the first fashion show since the 2003 US invasion of Iraq which echoes a turn around in the social life of the city.
Last weekend's Make-up, Hairdressing and Fashion Show wasn't exactly a catwalk show like those in Paris and Milan. The festival in central Baghdad was more a show of Iraq's best hairdressers' and beauticians' talents. 
The sectarian war following the invasion by US troops in 2003, led to extremist attacks on the fashion and beauty industry players.
The religious extremists pushed hair stylists and fashion designers out of the cities and threatened their businesses. They also insisted that women shouldn't change their appearance and must only be seen by their husbands.
However as time passed, Iraqi women felt the need to return to a more international approach to fashion and style. An overall improvement in security meant the beauty industry players could come back home and once again ply their trade.
A blindfolded Iraqi hairdresser (R) competes on stage during a hairdressers and make up artists festival on February 9, 2013 in Baghdad (AFP Photo / Patrick Baz)
An Iraqi model is made up backstage before a show during a hairdressers and make up artists festival on February 9, 2013 in Baghdad (AFP Photo / Patrick Baz)
An Iraqi model walks on the cat walk during a show as part of a hairdressers and make up artists festival on February 9, 2013 in Baghdad (AFP Photo / Patrick Baz)