Artist sews his mouth for Pussy Riot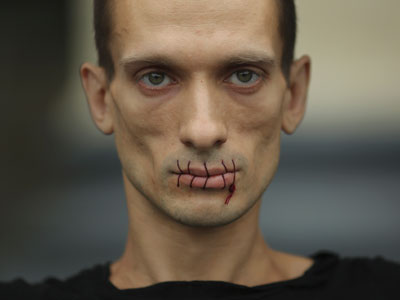 In support of the jailed punk group Pussy Riot, a St. Petersburg artist has sewn his mouth shut, and paraded through the city's Kazansky Cathedral.
Pyotr Pavlensky, looking pale and thin and wearing a black sweater, walked into the Kazansky Cathedral carrying a placard in support of Pussy Riot, with his mouth closed by red string, St. Petersburg's My Neighbourhood newspaper reports.

The man's poster read: "Pussy Riot performance was a remake of a famed Jesus Christ's deed (mf. 21:12-13)."
The poster referred to an episode in the Jesus Christ Superstar 1973 film adaptation of the Andrew Lloyd Webber and Tim Rice rock opera.
"With this action Pyotr Pavlensky calls on the believers to find powers to understand that Christian culture is inseparable from Christ's deeds, and on artists to overcome their fears and at least once state their opinion frankly and openly," the artist's assistant told the newspaper.
Last week a cross with a crucified doll depicting the Pussy Riot group was placed in front of St. Petersburg's Church of the Resurrection of Jesus Christ. An inscription on the cross read "Your democracy can be here." Activists also placed a charity box under the cross with the words "for restoration of Russian Orthodox Church's reputation" written on it.
Five masked girls from the Pussy Riot band allegedly performed an anti-Putin song at Moscow's Christ the Savior Cathedral on February 21. The following month, three band members were arrested.
Maria Alehina, Ekaterina Samutsevich and Nadezhda Tolokonnikova have spent the last four months in jail. The Khamovnichesky Court in Moscow has ruled that the three will remain in detention for another six months.
­
Artist Pyotr Pavlensky holds a board in support of jailed members of female punk band "Pussy Riot" with his mouth sewn shut during a protest outside the Kazan Cathedral in St. Petersburg. (REUTERS / Trend Photo Agency / Handout)