­Islamic art wing at Louvre opened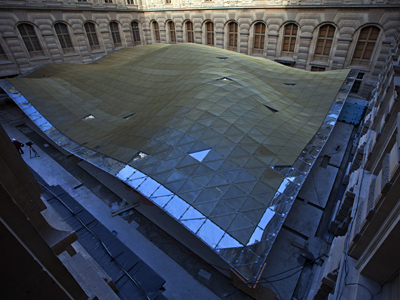 After a decade long wait the plan to open an Islamic arts centre at the Louvre Museum has finally materialized. The department, initially suggested by France's ex-President, Jacques Chirac, has now officially opened.
Over $130 million dollars put forwarded by the French government and several Islamic states, including Saudi Arabia, Morocco, Kuwait, Oman and Azerbaijan, have been spent in a bid to restore the glory of Islamic art and culture in the heart of Paris.
The official inauguration ceremony took place on Tuesday, with Princess Lalla Meryem of Morocco participating in the event. The museum will open to the public on Saturday.
The Islamic art gallery is set to open on September 22, becoming the museum's first major development since the infamous glass pyramid.
That project, built by Architects Mario Bellini and Rudy Ricciotti, created a modern addition to the Louvre's historical 17-century facades. Their golden glass roof resting on transparent glass walls covering the palace's Visconti courtyard.
Today's latest addition includes a 3000 square meter wing, housing around 3,000 exhibits from the 7th to the 19th centuries, many of the pieces will be showcased for the first time. The collection includes an impressive selection of carpets and textiles. It comprises pieces from Spain, Egypt, India, Persia and Central Asia.
The head of the Islamic arts department at the Louvre, Sophie Makariou, said the aim is to show "Islam with a capital I."

"We must give back the word Islam its full glory… and not leave it to the jihadists to tarnish it," she said.
France's President Francois Hollande (2ndR), flanked by Sophie Makariou (R), chief of Department of Islamic Arts, his companion Valerie Trierweiler (C) and Culture minister Aurelie Filippetti (3rdL), visits the new Department of Islamic Arts galleries at the Louvre museum in Paris on September 18, 2012 (AFP Photo / Pool / Gonzalo Fuentes)
view of the new Department of Islamic Arts at the Louvre (AFP Photo / Kenzo Tribouillard)