Trappings of a spy: Anna Chapman's goodies on show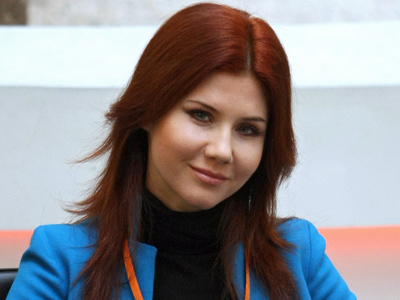 The fancy and fine-featured femme fatale of recent Russian spy fame, Anna Chapman, is now part of a museum showcase. Or at least some of her possessions are! It is all a part of the Discovery Times Square's espionage exhibit in New York City.
She was not the only alleged spy caught in the United States during the summer of 2010 — there were 10 in all – but Anna Chapman is unarguably the most infamous of the crew.
At the time, using her status as CEO of an international real estate company, Chapman worked her way through the social circles of Wall Street's financial elite. After FBI officials uncovered what they believed to be an elaborate Russian spy ring within American borders, Chapman was sent back to Russia in a prisoner exchange reminiscent of the Cold War era.
Now espionage enthusiasts can feel like they are a part of it all as some of Chapman's tools of the trade will be displayed alongside a variety of other spy gear in a less than clandestine museum exhibition.
The Discovery Times Square website promoting the display promises to, "…take you beyond the fiction and Hollywood drama and put you face to face with the fascinating truth behind the scenes," and a precursory look into the exhibit looks enticing.
The exhibit does not only contain articles pertaining to Chapman, but it also is claiming some ingenious tidbits from other notorious spies as well. Among the featured items are a robotic catfish, a 1970s-era miniature flying drone made to look like a dragonfly and even the icepick murder weapon that proved to be the demise of Leon Trotsky.
As for Chapman paraphernalia, the exhibit is not at all shy about promoting her wares either. On display for the public to enjoy is the pair of handcuffs that were used in Anna Chapman's arrest, a business card displaying her cover occupation, and even an exclusive and trendy Chanel handbag, retrofitted with a hi-tech wireless communication router that she used to contact her handlers.
Another proud Chapman item on view is her very own laptop, which eventually helped make the case against her.
As the story goes, Chapman was having problems with her computer and agreed to meet "Roman," a Russian agent, in person so that their people at the consulate could take a look. Nothing in the spy world is as it seems, and this was no exception; Anna's computer contact ended up being an undercover FBI agent.
­
The meeting took place in public at a local Starbucks, which is where Chapman turned over the computer filled with sensitive information, setting the wheels in motion for her fall far from the top of the espionage elite.
Other items featured include a key used to decrypt encoded messages between the Russian spies and fake identification documents used by all of the members of the alleged infamous spy ring. In fact, the museum claims that, for the first time ever, information which lead to the eventual exposure of the group will be made public.
The intrigue surrounding Russia's now famous sultry vixen is quite understandable. In many ways she is the ultimate "Bond Girl", brought from the world of cinematic fantasy to real life. For many, the idea of a hidden underworld, played out in the shadows and dark corners of high society is an intriguing concept, but mostly from an era long gone.
Though Anna Chapman's story may not be filled with exciting chases and near death excursions, her very existence proves that on some level the spy game is still going strong. Her mission, if you believe her accusers, was to infiltrate America's business elite and pass on vital information that could give her country a strategic and economic advantage in the future.
According to the exhibit curator and former CIA agent H. Keith Melton, Chapman's outgoing style and ability to get into the highest social circles made her a valuable asset. In an interview with the New York Post, Melton said, "If she had been another six months, Anna Chapman could have become the most dangerous spy in American history."
For those who are fascinated with the tricks, gizmos and gadgets used to secretly gather information and the lives of the people who used them, this exhibit will be exciting indeed, but there is something else to consider.
If the FBI, CIA and the National Reconnaissance Office are willing to release these formerly-top secret devices and techniques used for modern day intelligence collection, then how much more advanced are today's devices?
It seems that in the clandestine world of spooks and ghosts there are no limits.If it can be imagined, it can be achieved, and that is all a part of the intrigue.
­
Photo from Anna Chapman's social network profile