Ancient Judaean temple found near Jerusalem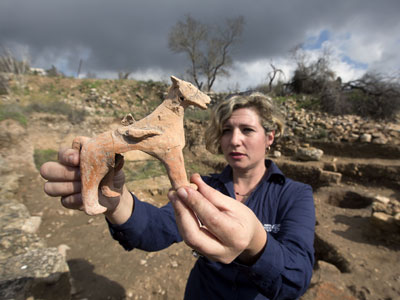 A group of Israeli archaeologists has discovered a 2,750-year-old temple and religious figurines at Tel Motza on the western outskirts of the capital, going back to the Judean period.
­"The ritual building at Tel Motza is an unusual and striking find, in light of the fact that there are hardly any remains of ritual buildings of the period in Judea at the time of the First Temple," excavation directors Anna Eirikh, Hamoudi Khalaily and Shua Kisilevitz Anna Eirikh explained in a statement.
Among the newly discovered artefacts are ritual pottery vessels with fragments of chalices, pottery figurines and decorated ritual pedestals.
Israel Antiquities Authority archaeologist Anna Ririkh (AFP Photo / Menahem Kahana)
­According to the Times of Israel website, the treasures discovered at Tel Motza could be evidence for the existence of a ritual cult in the Jerusalem region at the beginning of the Judean monarchy.

A statement from the Israel Antiquities Authority reportedly described the walls of the structure as massive, built like traditional temple construction of ancient times.

A clay figurine used for religious rituals and practices, dated to the early monarchic period (AFP Photo / Menahem Kahana)
­Motza and the surrounding region have a reputation for their archaeological importance according to the Times of Israel. Many discoveries dating back to different periods have been made at the site, including a public building, a large structure with storehouses and a considerable number of silos used to store grain supplies. Some experts suggest linking the site with the Biblical settlement of Motza mentioned in the Book of Joshua.