RT PARTICIPATES IN THE FIRST-EVER FIVE-COUNTRY BRICS TV DEBATE
MOSCOW, SEPTEMBER 5 – RT's Peter Lavelle took part in a five-way TV debate that brought together media professionals representing the BRICS nations to share their views on the on-going summit hosted by China. Reporters from Brazil, Russia, India, China and South Africa discussed their respective countries' pressing issues and the possibility of setting up an alternative media platform for the BRICS members.
China Global Television Network (CGTN) hosted the show 'The Point' that brought together Peter Lavelle, host of RT's CrossTalk show, Brazilian SBT's Marcelo Torres, Chriselda Lewis from the South African Broadcasting Corporation, and Vishnu Som from India's NDTV for a special episode that featured a 9-minute presentation from each. The debate was later broadcast on all five channels.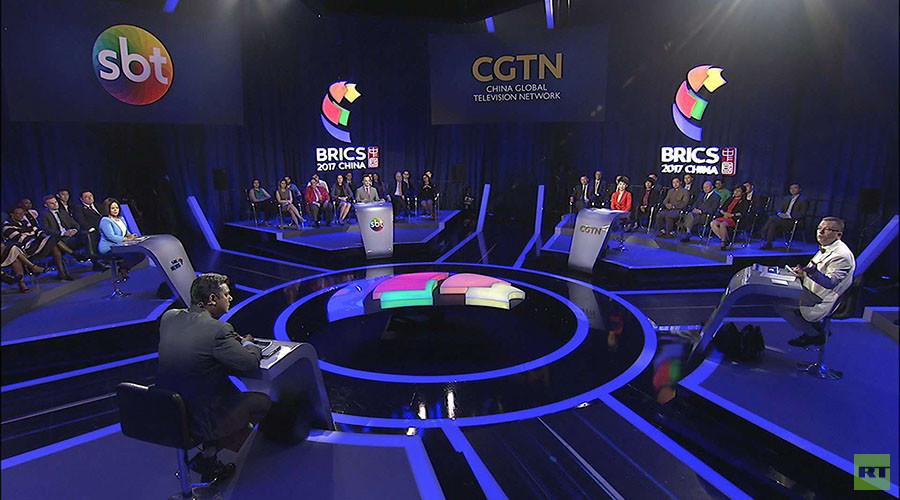 The five co-hosts discussed the role of the BRICS association and the possibility of setting up a common media platform that would provide an alternative to the mainstream media.
"With the West's current monopoly on information in the media, it is very important that the voices of other countries be heard. My debate with our colleagues from China, Brazil, India and South Africa showed that we can move in this direction successfully," said Peter Lavelle.
In July 2017, RT and CGTN signed an agreement of mutual cooperation during the 3rd Russia-China Media Forum hosted by Moscow, with the promise to exchange best practices, host workshops, and rebroadcast both parties' programs.
In 2013, RT's CrossTalk was among the finalists in the New York Festivals' "Best News Talk Show" category.
WATCH THE FULL PROGRAM