MI5 was 'unprepared' for 7/7 bombings - former spy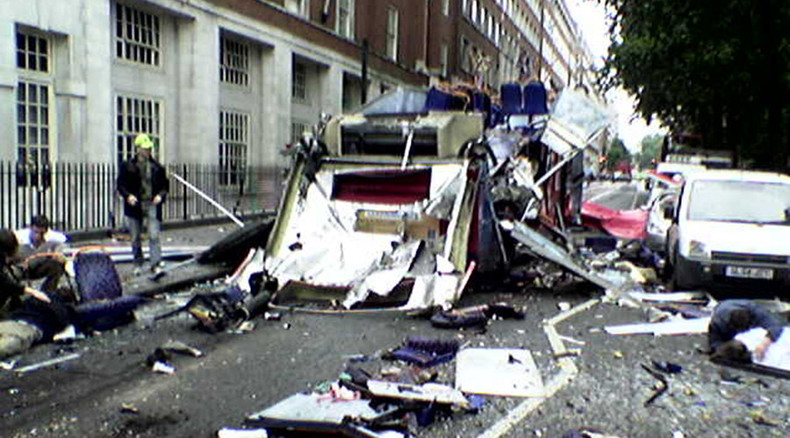 Britain's domestic intelligence agency was unprepared for London's 7/7 bombings, a former agent has revealed. He said that MI5 was understaffed and that it had generally been ill-equipped for a rise in Islamic terror following 9/11.
The agent, who uses the codename Robert Acott, made the claims anonymously to BBC's Newsnight program. The ex-spy mentioned that the agency was understaffed at the time of the London terror attacks in July 2005, which struck the capital's transport system leaving 52 people dead.
Acott, who worked as a spy for 18 years following Islamist and Irish terror suspects, told the BBC that MI5 had been unprepared for the rise in Islamist terror following the 9/11 terror attacks in the US.
He added that he was abandoned by MI5 after developing acute Post Traumatic Stress Disorder (PTSD) and a dependency on alcohol. The intelligence agency did not comment on the claims, but sources told the BBC it was only one side of the story.
In an unprecedented interview, the former MI5 agent revealed details about the lives of MI5's foot soldiers for the first time.
He told the BBC that the secretive intelligence agency was short staffed at the time of the 7/7 bombings in London, when four suicide bombers detonated explosives on three separate Underground trains and a bus.
Acott's comments appear to undermine a testimony from MI5's Chief of Staff, which was made in 2011. "Witness G" anonymously told the July 7 inquests that the agency had experienced no intelligence failings in the run up to the attack.
Acott said MI5 was completely unprepared for the rise of Islamist terror after the 9/11 attacks in the United States and that it only had one Muslim spy in its surveillance unit.
...draconian powers they were given and still have

— Bass Clef (@bassclefbass) July 7, 2015
"(MI5) was totally understaffed. We weren't used to dealing with the way they acted. The good thing about following Irish targets was that the Active Service Units would generally meet in pubs you could go into," he said.
"The Islamic targets would meet round each other's houses or in mosques which you can't get away with going into. Also, they were living in mostly ethnic areas and often you would find the only white people on the street were surveillance officers."
MI5 had so few non-white officers that they considered "blacking-up" agents and even tried it on a training exercise.
BBC Journalist Nick Hopkins reports Acott said it would have taken a "small army" to adequately monitor all the suspected terrorists in the UK.
READ MORE: ​'It can and will happen here': Counter-terror officers draw somber conclusions from 7/7 (VIDEO)
Acott described the agency as "overstretched" when it successfully foiled a plot to detonate explosives on transatlantic flights in 2006.
"It was horrendous. We had around eight targets mostly based in Walthamstow, a couple in High Wycombe. It was 24 hours a day. It went on for quite some time," Acott said.
"With all of Special Branch, with all of MI5, there was just not enough people. CID became involved, British Transport police became involved. That's how desperate we'd become.
"If that airline job had gone as planned it would have eclipsed 9/11. It would have been horrendous."
READ MORE: 'UK govt didn't learn lessons from 7/7 attacks'
It was around this time that Acott developed PTSD and began drinking heavily to cope with his anxiety.
Acott claims MI5 did not show any sympathy towards him or offer him any help. In 2009, he was sacked for gross misconduct after leaving an official file in his garden shed.
He told an MI5 tribunal that the document was so dull he didn't believe it had any security status.
Acott has tried to commit suicide on three separate occasions since his dismissal from MI5.
The agency denies it has any duty to safeguard his well being, despite four doctors stating his PTSD is a result of his spy work.
MI5 wrote a letter to Acott's parents, saying: "It is important to reiterate that this Department is not responsible for his health problems, nor do his problems stem from his time working here."